Jug Bay Wetlands Sanctuary OUR PEOPLE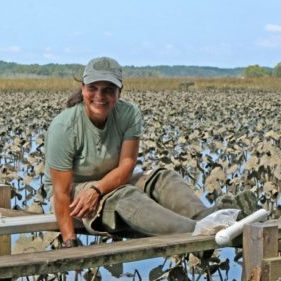 Patricia Delgado, Superintendent & Wetland Ecologist
rpdelg88@aacounty.org
410.222.7818
Academic and Professional Credentials
BS Marine Biology, M.S. and Ph.D. Oceanography and Coastal Sciences
Belief Statement
The power of developing a connection with nature to become forever a steward for the environment.
Personal Interests/Anecdotes
Patricia enjoys hiking, biking, reading a good book, and traveling to discover new places.
Patricia has conducted wetland research for over 25 years and has never tired of learning about these magnificent places. As a scientist, she believes in the important role of science in supporting education, resource conservation and management. At the Sanctuary, she is eager to promote environmental education, stewardship, research, citizen science, and science communication to our visitors, while also providing a protected environment for public enjoyment. Patricia received a B.S. in Marine Biology from Universidad Nacional de Heredia (Costa Rica) and a M.S. and Ph.D. in Oceanography and Coastal Sciences from Louisiana State University.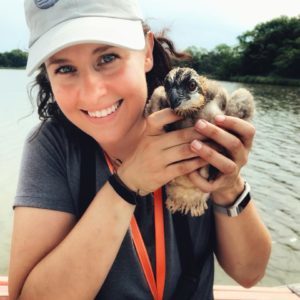 Liana Vitali, Stewardship & Citizen Science Coordinator
rpvita23@aacounty.org
410.222.7810
Academic and Professional Credentials
BS Biology, MS Zoology
Belief Statement
Liana believes wholeheartedly in the power of nature to foster profound experiences in each of us that can serve to unlock our potential and authentic selves.
Personal Interests/Anecdotes
Liana loves, actually needs to be outside as much as possible. She values quality time spent in nature whether it's hiking a new trail with her pup, Willow, road-tripping to explore a new town, or sitting outside on a beautiful morning with family, friends, and a hot cup of coffee.
Through inspiring and meaningful outdoor experiences, Liana strives to help each visitor create a strong and lasting connection to the natural world. Liana leads our Citizen Science and Stewardship programs and loves to empower volunteers and aspiring Naturalists to lead scientific and preservation efforts here at the Sanctuary. Additionally, she is an adjunct faculty member at the Miami University of Ohio teaching in the Global Field Masters Program in Baja, Mexico, and Belize. In 2019, Liana was the recipient of the Jan Hollmann Environmental Education Award. She earned her BS in Biology & Ecology at Penn State University and her Master's in Zoology through the Global Field Program of the Miami University of Ohio.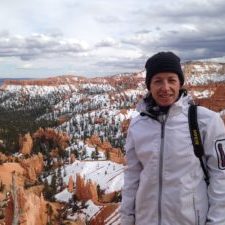 Beth Sieglinger, Education Coordinator &  Naturalist
rpsieg21@aacounty.org
410.222.7811
Academic and Professional Credentials
BS Animal Science, MA Biology, MD Certified Teacher, Virginia Tree Steward, AACo. Watershed Steward Candidate (2022)
Belief Statement
"No one will protect what they don't care about, and no one will care about what they have never experienced" - David Attenborough 
Humans are not separate from nature and we depend on nature for many unseen things like clean water and air. Therefore, it is our responsibility to be good stewards and protect what we can. But to do so, we must first experience and appreciate nature in all forms. 
Personal Interests/Anecdotes
Beth enjoys photography, running, identifying all the living things, and slowly making her home and yard more environmentally, and bay-friendly. 
Beth's initial career goal was a big cat zookeeper. That goal quickly changed after taking a substitute teaching job for a non-public special education school. With a new purpose, she pursued her teaching credentials and happily taught at the middle school level for about 8 years. After a hiatus to raise her children and travel the world with her military husband, she decided to go back to school and follow her passion for the environment. Now, Beth's focus is teaching all who will listen about the importance of our natural world and trying to help them understand how nature benefits us all. 
Beth earned her BS in Small Animal Science from Delaware Valley University in Pennsylvania and her MA in Biology (conservation) through the Advanced Inquiry Program from Miami University in Ohio. She holds two teaching credentials from the state of Maryland (Sp.Ed., Bio)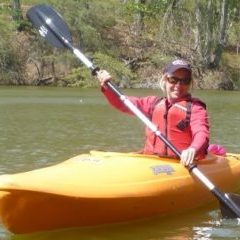 Debra Gage, Volunteer & Program Coordinator
rpgage00@aacounty.org
410.222.7806
Academic and Professional Credentials
BA in Psychology & Social Work, Anne Arundel County Master Watershed Steward, Maryland Master Naturalist, Maryland Woodland Steward, and ACA Certified Canoe Instructor
Belief Statement
Nature cannot continue to offer its bounty without thoughtful stewardship. Connecting people to nature is key. Nature heals the soul.
Personal Interests/Anecdotes
Debra loves being outdoors gardening, hiking, camping, paddling, and cycling.
Debra recruits, trains, supports, and recognizes Jug Bay's vital volunteer program, including collecting and analyzing volunteer data. She works closely with volunteers and staff to plan, coordinate, support, and analyze Jug Bay programs. Debra has lived and worked in the Patuxent River watershed for over 15 years, and has developed a real love for the river. As an American Canoe Association (ACA) certified canoe instructor, Debra aspires to connect visitors to Jug Bay and the Patuxent River through wetland canoe/kayak trips and public education programs, in hopes of fostering appreciation and protection for these valuable resources. 
Debra received her Bachelor's Degree in Psychology and Social Work from the University of Maryland Baltimore County. In 2009 she changed focus to follow her passion to learn more about our natural world and environmental concerns.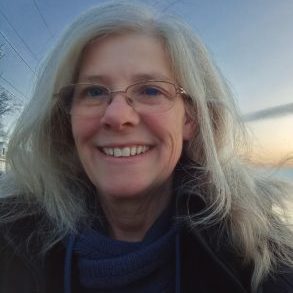 Vicki Petersen, Office Manager & Naturalist
rppete23@aacounty.org=
410.222.7113
Academic and Professional Credentials
B.A. Journalism, UMCP, MAT Notre Dame of Maryland University
Belief Statement
In any relationship, to take more than we give is not only unwise, it is unsustainable.
Personal Interests/Anecdotes
During the pandemic, when food items became scarce on grocery store shelves, she put her interest in self-sufficiency to work in her own backyard, sharing the bounty with family and friends. Her son raised chickens and she grew tomatoes, cucumbers, herbs, green beans, tomatillos and more.
Last year, she planted two apple trees and is turning her focus on landscaping with food. Why can't a yard be beautiful and practical?
She has lived in a local Bayside community for nearly 30 years and can often be found walking her dog, BG, along the waterfront.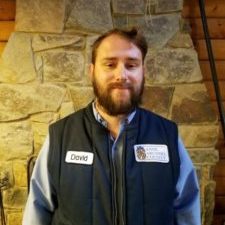 David Rose, Maintenance Worker
David is a resident of West River, Maryland. He graduated from Salisbury University with a Bachelor's degree in Biology. David worked as a Park Ranger at the Breezy Point Beach and Campground in Calvert County for more than three years. David joined the Jug Bay maintenance team in the fall of 2019.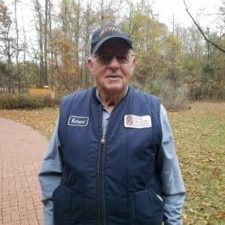 Richard Chaney, Maintenance Worker
Richard and his wife have been neighbors of Jug Bay for over 30 years. He worked as a heavy equipment operator for the state of Maryland highways for 39 years. Richard has also worked as a mechanic, which has given him the knowledge to keep the Jug Bay equipment running smoothly. He helps tremendously to keep our grounds looking good. Richard enjoys fishing and being outdoors.